Greenest City in the World?
Freiburg im Breisgau, a German city with a population of some 230,000 has been acclaimed one of the world's greenest cities, winning several awards for its environmental work. Let's take a look at what makes it different from other cities!
Public transportation
Bombed to bits and pieces during the Second World war, the Freiburgers decided to rebuild their town in accordance to the old street networks, with some small differences: They widened the streets, not for the sake of more car lanes but to make room for trams, a cycle path network initiated in 1969 and declaring the entire city center a pedestrian area.
The result is a city where 70% of all people live within 0.3 miles of a tram station and if you've got a ticket for a concert or sports event it will also take you onto the public transit for free.
Energy
In the 1970's, the German region of Baden-Württemberg in which Freiburg is situated planned the construction of a nuclear power plant not far away from the city. The following conflicts and civil disobedience resulted in the cancellation of the project, but the city was left with the enormous task to face energy shortages through other means
Energy saving
Efficient technology
Renewable energy sources
An example of the implementation of these technologies include the construction of so called "passive houses" able to reduce energy consumption for heating with 80-90%, warming up your apartment with your own body and heat generated while cooking etc.
The most prominent energy source in Freiburg is probably the city's Solar Panels. Due to not very favorable conditions for wind power, the city has instead installed some 400 solar cell installations throughout the city. Some of these houses, called PlusEnergy houses generate more electricity than they consume and provide revenues for those owning the houses by selling the surplus on the electricity market.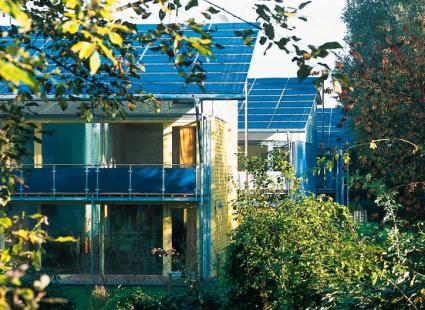 Waste disposal
Throughout Germany, the amount of waste generated is declining to such a degree that 70% of its waste is today recovered and reused. The effects? A reduction of waste disposal in Freiburg, from 140,000 tonnes in 1988 to 50,000 in 2000. A reduction of 90,000 tonnes in only 12 years!
Green economy
As defined by the United Nations, Sustainable Development rests on the three principles of Environmental Protection, Social Development and ultimately Economic Development. To the city of Freiburg, aggressive policies pushing local energy standards further than the rest of Germany (not to mention the rest of the world), combined with local commitment has created an environmental economy today employing 10,000 people in 1,500 business including companies producing solar cells.
Food For Thought – When everything is not green in paradise…
Although the city of Freiburg im Breisgau provides most people in the rest of the world with the so desperately needed flicker of hope, it is obvious that not everything is Green in paradise.
If you have been commuting within the Bay area this past fall you have probably not been able to miss the repeated BART strikes that have at times paralyzed much of the San Francisco infrastructure. To us, just as well as the inhabitants of Freiburg in Germany, this reliance on public transportation creates opportunities just as well as trade-offs. Although a switch over to Los Angelino traffic jams are by no means desirable, the reduced reliance on cars instead creates a just as critical reliance on other means of transportation if you live too far away from school or work to bike or walk.
Another case repeatedly encountered in environmental solutions is the use of incinerators as an environmental solution. Although these installations seem to enable a transformation of our problematic waste into thin air, they are by no means a part in an ultimately sustainable economy. Incinerators are used in Freiburg as well, but even if so done in the most environmentally sound of manners, what is incinerated can seldomly be recycled or reused, indicating a maybe too rapid desire to classify these industrial solutions as green.
A particular example of this green labeling is when honorable enforcement of environmental policy within the EU out-dates non-state-of-the-art incinerators, sentencing them to a second life in developing countries to which they can successfully be exported as "Green Technology Transfers". If the incinerators are not good enough for human health in the "developed" countries, are humans in "developing" countries more resistant to environmental pollution?
I think that the conclusions that can be drawn from examples such as Freiburg is that the technology and knowledge to make our cities greener already exists, but to achieve a completely "Green" society much work remains to be done.
Much of this article was based on information from Ecotippingpoints, check them out for more great information!
For further readings, see:
Plusenergihaus, Energy Efficient Housing, retrieved from
http://plusenergiehaus.de/index.php?p=home&pid=8&L=1&host=1#a494
Ecotippingpoints, Regina Gregory, January 2011, "Germany – Freiburg – Green City",
retrieved from http://www.ecotippingpoints.org/our-stories/indepth/germany-freiburg-sustainability-transportation-energy-green-economy.html

Wikimedia Commons, 2003, July "Freiburg 017.650.n.jpg"
retrieved from http://commons.wikimedia.org/wiki/File:Freiburg_017.650.n.jpg
The Guardian, 2008-03-28, "Is this the greenest city in the world?" retrieved from http://www.theguardian.com/environment/2008/mar/23/freiburg.germany.greenest.city