Fairness in Fair Trade Coffee?
By: Maggie Li
Fair Trade! Organic! GMO-Free! Maybe you have seen these words slapped over bags of coffee beans at the supermarket and farmer's market, sipped at gleaming coffee shops. Even our local Cal Dining facilities claim to serve coffee sourced from Las Hermanas, a certified fair trade and organic female-operated coffee grower's cooperative in Nicaragua. I will investigate the development of industrial coffee production in Nicaragua, as well as analyze the environmental and social impacts that the Fair Trade certification has had on these communities. The development of this eye-catching label allows producers with the capital means to become certified to access niche markets of green consumerism. However, feeding into a global market economy inherently reproduces uneven social and economic structures, and the question is: who wins and who loses?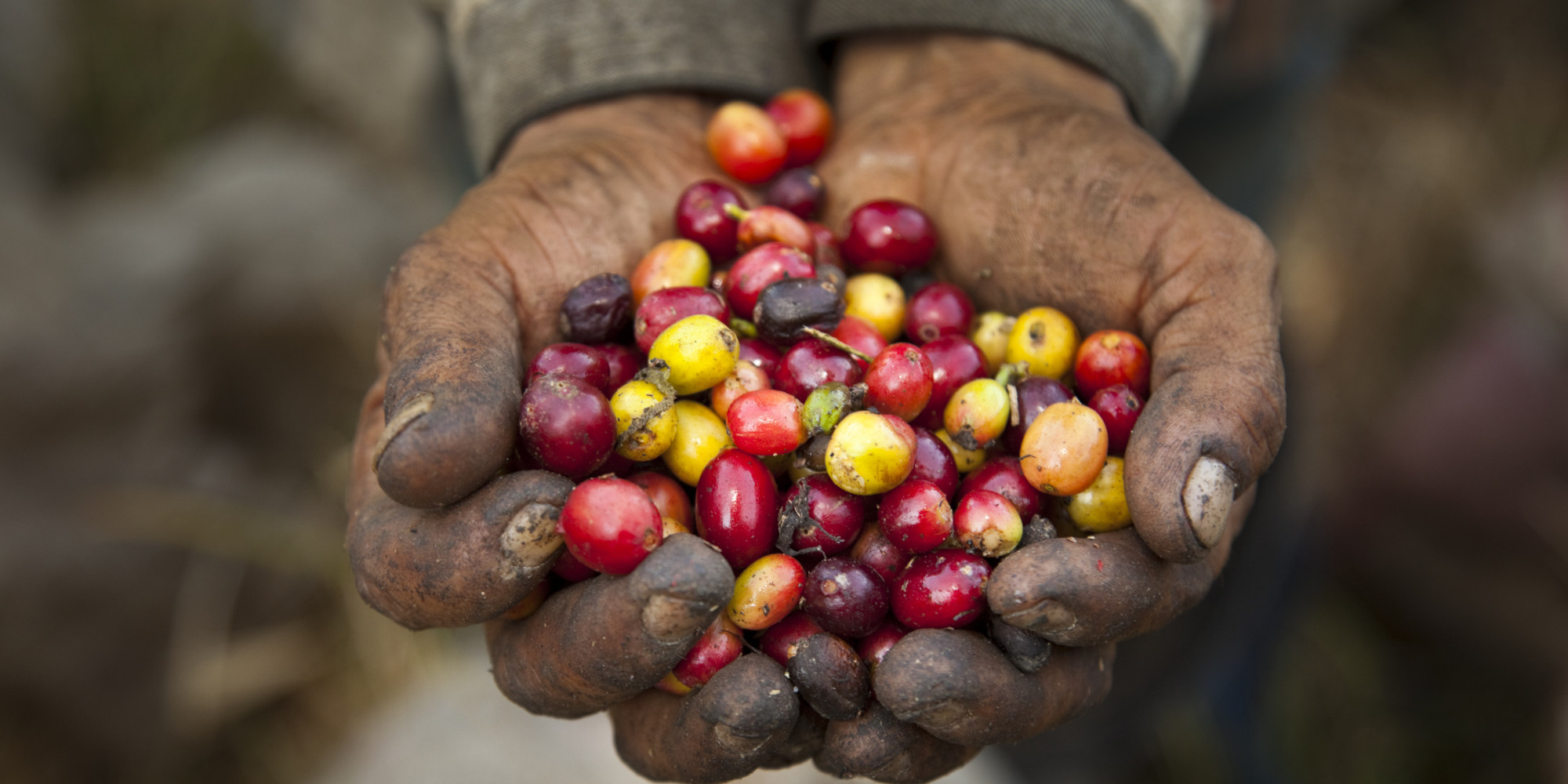 In order to understand the impacts of Fair Trade certification, one must first contextualize the struggles of agrarian reform in Nicaragua. After revolutionaries overthrew the Somoza dictatorship in 1979, the newly-elected Sandinista regime allocated most of the expropriated land to be farms employing the formerly landless and land-poor peasant class as waged labor in the agrarian reform of 1981.  However, these peasants, consisting of roughly 75% of the total population, collectively organized and obtained land ownership. The reforms carried out by peasant uprisings demonstrate strength at the community scale to "[organize] in and [dominate] place" (Smith 1992, 71). After over a decade of struggle, many small and medium-size farmers were able to gain access to land titles and form cooperatives, with the state acting as the primary credit financiers.
However, structural adjustment policies under the World Bank coupled with a new government administration under Violeta Barrios de Chamorro post-1990s led to massive cutbacks and disinvestment in state-sponsored credit and technical assistance (Bruce 2016, 490). This drastic shift, along with attempts to privatize land by returning plots to pre-revolution landholders, forced cooperatives to sell off land parcels, leaving many smallholders landless. Large estates subsequently bought the acres off the market, contributing to uneven expansion of the coffee industry. By 1993, cooperatives collectively held rights to less than 2%, a drop from 34% just in 1989, of available farmland (Bruce 2016, 491).
Despite lower productive capacities and worries of land insecurity and high debt, cooperatives remain one of Nicaragua's prime examples of the revolution's successes (Bruce 2016, 492). The visibility of these groups has allowed for them to foster relationships with global advocacy networks and NGOs. This ability for small farmers to jump scales and garner international support has altered the power geometries established through structural adjustment policies (Smith 1992, 66; Massey 1994, 149). Today's cooperatives serve as a resource of knowledge and collective bargaining for empowering coffee farmers.
That is where third-party certifications such as Fair Trade come into play. These programs attempt to bridge producers like Las Hermanas to consumers, primarily in Western nations, through the establishment of a moral economy (Goodman 2004, 894). Fair Trade USA, one of the largest certifiers of Fair Trade products, claims to enable consumers to make a difference with their dollar. Market expansion for any product has been made possible through commodification, particularly food (Sparke 2013, 70). The commodification of conscious consumerism since the late 1990's has led to creation of niche markets such as Fair Trade certified coffee.
While the development of alternative markets has undoubtedly increased farmer incomes in Nicaragua by adding extra pennies to every pound of coffee produced, it has done little to improve the wellbeing of the mass majority of smallholders (Valkila 2009, 3023). Along with failures to target many systemic issues afflicting the peasant class, certification programs also place the responsibility of finding solutions on the consumers through the form of "socially responsible buying behavior" (Pelsmacker, Driesen, Rayp 2005, 366). This overarching narrative ignores the high profit margins made by transnational corporations such as Starbucks and the negative environmental and health effects of coffee farming.
Studies have shown that Fair Trade coffee farmers are an incredibly heterogeneous socioeconomic group, and farmers with lower yields are often unable to make enough to buy more land or technology increase production even with premium prices (Valkila 2009, 3023). The initial certification process is also capital-intensive, and only large cooperatives able to obtain Fair Trade certifications for their coffee-growing members (Bruce 2016, 494). While participation in cooperatives and access to alternative markets yields higher market prices for their coffee crop, this increased income is not enough to offset a general decline in reported quality of life for farmers (Bacon 2005, 506). Certification programs such as Fair Trade have a tendency to greenwash economic struggles, depicting consumers as the saviors in bettering the lives of farmers across the world. Fair Trade policies often lack context and insight into the hardships faced by these individuals struggling to keep their farms afloat year after year (Goodman 2004, 908).
In addition to navigating an unforgiving economic system, farm workers in rural Nicaragua are also facing adverse health effects, such as hypertension. A study of young coffee workers averaging 35-years-old shows that while actual cases of hypertension are lower than global estimates, there are significantly higher occurrences of prehypertension (Alicea-Planas, Greiner, Greiner 2016, 45). Hypertension and prehypertension attributes to increased likelihood of cardiovascular disease, the leading cause of death in Nicaragua (Alicea-Planas, Greiner, Greiner 2016, 44). In a few decades, there could develop an epidemic of cardiovascular ailment among this generation of rural citizens.
Along with increased occurrences of kidney disease in sugarcane workers, it is clear from these figures that there needs to be more culturally-relevant, educational content about maintaining workers' health in rural Nicaragua (Alicea-Planas, Greiner, Greiner 2016, 45). However, Fair Trade certifications tend to not place as much emphasis on these issues in their advocacy efforts, shelving the bulk of this work instead on the state and NGOs. However, as a powerful entity continuously gaining international influence, it should take further steps to ensure extra funding and resources allocated to the community to promote health and wellness for overworked laborers.
Along with facing health risks associated with growing and harvesting coffee, workers are also suffering from declining yields and working conditions due to climate change. The country has been ravaged by periods of extreme droughts, particularly in the past 30 years, resulting in severe declines in natural land cover. For farmers in higher elevations growing arabica, a specialty shade-cover coffee crop, there has been a recent proliferation of the coffee rust fungus due to warmer temperatures. This has devastated yields in recent years. Certification programs such as Fair Trade should be partnering with local cooperatives to ensure agroecological methods to coffee production and educating retailers and consumers about the environmental impact of coffee production on landscapes.
Overall, I believe the top-down approaches such as Fair Trade certifications can positively impact cooperatives that can afford to opt-in with higher market prices. However, these strategies are limited in their scope to address overall health problems, conditions of labor, and livelihoods of smallholder coffee farmers and workers. Rather than relying on third-party certification programs to solve these issues, consumers and investors should educate themselves on the rich, unique history of Nicaragua and support local organizations that directly address concerns about health and the environment.
Bibliography:
"About Fair Trade USA." Fair Trade USA. Accessed March 19, 2017.
https://fairtradeusa.org/about-fair-trade-usa.
"Agrarian Reform in El Salvador and Nicaragua Pacification or liberation?" Revista Envío.
August 1983. Accessed March 19, 2017. http://www.envio.org.ni/articulo/3499.
Bacon, Christopher. "Confronting the Coffee Crisis: Can Fair Trade, Organic, and Specialty
Coffees Reduce Small-Scale Farmer Vulnerability in Northern Nicaragua?" World
Development 33, no. 3 (2005): 497-511. doi:10.1016/j.worlddev.2004.10.002.
Bruce, Analena. "The Legacy of Agrarian Reform in Latin America: Foundations of the Fair
Trade Cooperative System." Geography Compass 10, no. 12 (2016): 485-98.
doi:10.1111/gec3.12298.
"Clues Found in Nicaraguan Sugar Cane Worker Kidney Disease Epidemic." The National
Kidney Foundation. October 07, 2015. Accessed March 19, 2017.
https://www.kidney.org/news/clues-found-nicaraguan-sugar-cane-worker-kidney-disease-
Deere, Carmen Diana, and Peter Marchetti. "The Peasantry and the Development of Sandinista
Agrarian Policy, 1979-1984." Latin American Research Review20, no. 3 (1985): 75-109.
Goodman, Michael K. "Reading fair trade: political ecological imaginary and the moral economy
of fair trade foods." Political Geography 23, no. 7 (2004): 891-915.
doi:10.1016/j.polgeo.2004.05.013.
"Land Conflicts: Godoy Backers Seize Cooperatives." Revista Envío . August 1990. Accessed
March 19, 2017. http://www.envio.org.ni/articulo/2631.
"Making the Economy Our Own: Interviews with UNAG Leaders." Revista Envío . June 1989.
Accessed March 19, 2017. http://www.envio.org.ni/articulo/2711.
Massey, Doreen B. Space, place, and gender. Minneapolis: University of Minnesota Press, 2009.
Pelsmacker, Patrick De, Liesbeth Driesen, and Glenn Rayp. "Do Consumers Care about Ethics?
Willingness to Pay for Fair-Trade Coffee." Journal of Consumer Affairs 39, no. 2 (2005):
363-85. doi:10.1111/j.1745-6606.2005.00019.x.
Renton, Alex. "Latin America: how climate change will wipe out coffee crops – and farmers."
The Observer. March 29, 2014. Accessed March 19, 2017.
https://www.theguardian.com/environment/2014/mar/30/latin-america-climate-change-coffee-crops-rust-fungus-threat-hemileaia-vastatrix.
Silva, José Adán. "Climate Change Dries Up Nicaragua." Inter Press Service. April 5, 2016.
Accessed March 19, 2017.
http://www.ipsnews.net/2016/04/climate-change-dries-up-nicaragua/.
Smith, Neil. "Contours of a Spatialized Politics: Homeless Vehicles and the Production of
Geographical Scale." Social Text, no. 33 (1992): 54-78. doi:10.2307/466434.
Sparke, Matthew. Introducing globalization: ties, tensions, and uneven integration. Chichester:
Wiley-Blackwell, 2013.
Valkila, Joni. "Fair Trade organic coffee production in Nicaragua — Sustainable development or
a poverty trap?" Ecological Economics 68, no. 12 (2009): 3018-025.
doi:10.1016/j.ecolecon.2009.07.002.